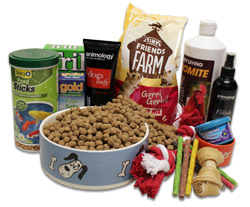 We have a vast range of pet foods and pet accessories, and if we haven't got it then we'll try our very best to get it! Then, if you're happy, you can place a regular order and we'll keep it in stock for you
Whether your pet is the weeniest hamster or the hugest horse, we recognise how important your pet is. And, we speak from experience because we have three dogs, two guinea pigs, two rabbits, some chickens and a leopard gecko.
We offer a comprehensive range of food, and specialise in natural pet foods and treats. Come and see what we have.
In addition, we have a comprehensive range of wild bird seeds, nuts and other nutritious foods. Feeders are also in stock – including the squirrel proof varieties – and we can also provide bird tables. Available bagged from 500g all the way to 25kg sacks, you can attract a wide variety of winged visitors. We also enjoy hearing what new birds have visited your feeders….
Our range includes:
Arden Grange
James Wellbeloved
Hill's Pet Nutrition
Burns Nutrition
Chudleys
Gertie Guinea Pig and Harry Hamster range
Burgess
Nature Diet
Naturea
Don't forget about our free local delivery service!